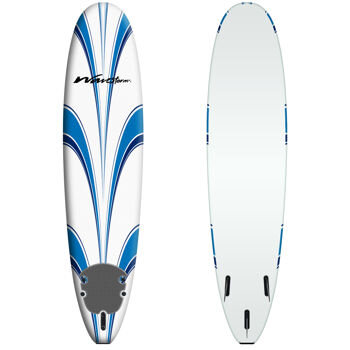 Surf Board 8'
Whether you are just learning to surf or have hit the waves a few times in the past, this 8' surf board is a great fit to ride the waves at Topsail Island.
The Wavestorm 8' surf board has a skived 3-D pad for better foot traction and dual density PE foam. The 3 polyurethane fins cut through the waves for a smooth and long ride. The polyurethane leash is high-tensile strength with neoprene padded ankle strap. The 3-stringer system enhances the board projection and strength of the board. Multi-laminated wood stringers provide maximum support with the least amount of added weight.
Ability Level: Great for beginner to intermediate surfers. Experienced surfers can ride this board as a fun-board for summer waves and for step-off fun in good waves
Specifications:
• Soft skin on deck and rails
• Hard but flexible bottom skin
• Skived 3-D surface pad for better foot traction
• Dual density PE foam
• Removable leash with neoprene padded ankle strap
• 3-Stringer System – enhances board projection and board strength
• Mulit-laminated wood stringers
• Length 8.0'
• Width 22 ½"
• Thickness 3 ¼"
• Volume 86 Liters
Manufacturers Suggested Age: Age varies. Children should only use surf boards with continual adult supervision.
Maximum Weight Capacity: 200 pounds
Item Weight: 11.5 poundsCare and Cleaning: Please rinse surfboard with fresh water after each use/trip to the beach. Do not use harsh soaps or chemicals to clean surfboards. Do NOT use surf wax on these boards.
Note/Disclaimer: All rental items are similar to the one pictured and described above but models and colors may differ slightly based on rental availability and changes by manufacturers. Any substitutions will be similar in safety specifications, brands, sizes, and/or weights would only change slightly.