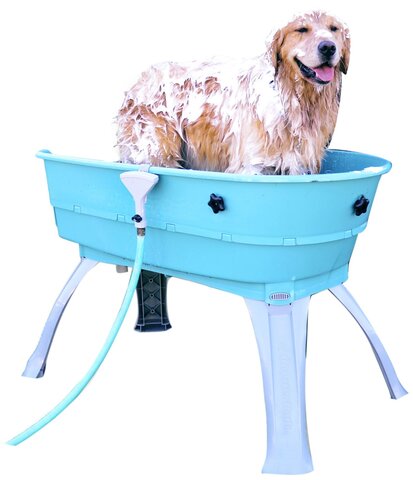 Portable Dog Wash
After a fun filled day on the beaches of Topsail Island, your kids aren't the only ones who need a bath. Our portable dog wash is the best help you can find when it is time to get Fido clean after a day of playing at the beach.
The portable dog wash is easy and convenient to use, all you need is access to a garden hose. The stairs connect to the open entry and easy access making it convenient for your dog to get in and out with minimal assistance from you. The rubber grips on the bottom of the legs keeps the tub stationary. The drain is complete with a directional drain hose. Inside is an easy to reach shampoo caddy, non-slip rubber mat, drain with directional drain hose, a fan nozzle that hooks on the rim, and an adjustable leash restraint with removable collar.
Specifications:
• Open Entry for easy access
• Stairs that hook onto the end
• Rubber grips on the bottom of the legs – keeps the tub stationary
• UV Stabilized
• Quick snap legs
• Drain with directional drain hose
• Fan nozzle – hooks on rim
• Non-slip rubber mat
• Easy reach shampoo caddy
• Adjustable leash restraint with removable collar
• Dimensions: 21 1/4" W x 45" L x 15" D
• 19" off the ground
• 360 degree access for easy washing
Manufacturers Suggested Age: Puppy to Adult dog
Manufacturers Instructions: http://boosterbath.com/resources/assembly-instructions/large-booster-bath
Maximum Weight Capacity: 150 pounds
Item Weight: 16 pounds
Care and Cleaning: After each use the portable dog wash should be cleaned with a mild soap and warm water. Allow to dry completely before taking apart and storing.Informational Product Video
Note/Disclaimer: All rental items are similar to the one pictured and described above but models and colors may differ slightly based on rental availability and changes by manufacturers. Any substitutions will be similar in safety specifications, brands, sizes, and/or weights would only change slightly.