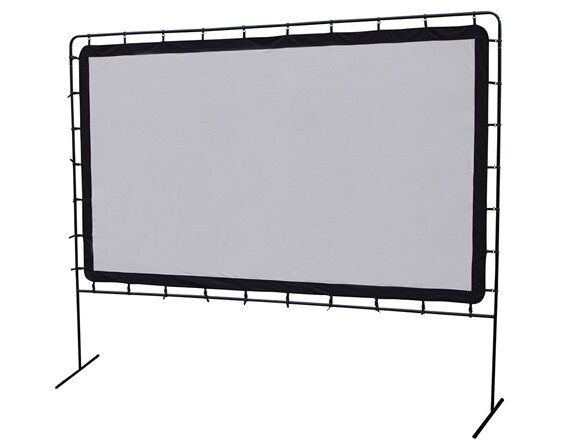 Outdoor Movie Screen
It is time to kick back, relax and have a fun filled movie night on Topsail Island with your family and friends! What is better than watching your favorite movies under the stars? We agree, nothing! Pop some popcorm and enjoy a relaxing night at the beach with your personal outdoor, home theater.
Allow Sweet Dreams to help you and your family create the perfect night of fun and laughter with this large movie screen! Pairs great with our projector! Can easily be set up on a large deck, the beach, backyard, or under the beach house.
The specially designed screen construction is perfect for providing you with a high resolution picture and color quality. The black backside helps keep excess light from showing through the screen to enusre a high quality viewing each and every time. Easy to set up in just minutes and comes with its own carrying case. This large movie screen is perfect for watching movies with your family and friends, business meetings, wedding rehearsals and wedding receptions!
Dimensions:
Screen Dimensions:
132" (11 Feet) diagnonal screen
600D X 600D nylon screen
Wide Screen (16:9 ratio)
Frame Specifications:
1" diameter, 18 guage powder coated, steel tubing
4 frame stakes
4 guy lines with 4 stakes (for added stability)
Item Weight: Approximately 34 LBS.
Item Care Instructions: The movie screen should not be left up overnight, in the rain or in high winds due to the potential for damage to the screen and frame!