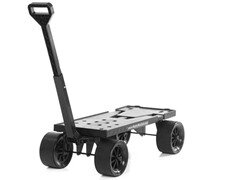 Mighty Max Cart
Need a large capacity cart for your beach or pier fishing needs on Topsail Island? The Mighty Max Rolling Cart is the answer. This cart is designed to carry large, heavier loads so you can get all of your gear, including a full size cooler, to the beach or fishing pier with ease.
The Mighty Max cart is made from rust free materials, large wheels that won't go flat ensure a smooth, quiet ride over most surfaces (grass, sand, pavement, decks) and the flatbed surface is great for carrying all of your needed gear. The tool rack will hold 2 fishing poles. The retracting handle and compact design make this the ideal cart for all of your beach and fishing needs.
Specifications:
• Made from rust free materials
• Large tires that never go flat and go over most terrain (grass, sand, pavement, docks)
• Flatbed design
• Retracting handle
• Smooth, quiet ride
• 600 pound maximum capacity
• Accommodates 2 fishing poles
Manufacturers Suggested Age: Adults should load, unload and transport the Mighty Max Cart. Older children should be supervised by an adult at all times when loading, unloading and transporting the Mighty Max Cart.
Maximum Weight Capacity: 600 pounds
Item Weight: 23 pounds
Care and Cleaning: Please rinse with fresh water after each use/trip to the beach. Mild soap and a soft scrub brush may be used, as needed. Please do not use harsh soap or bleach on the Mighty Max Cart.