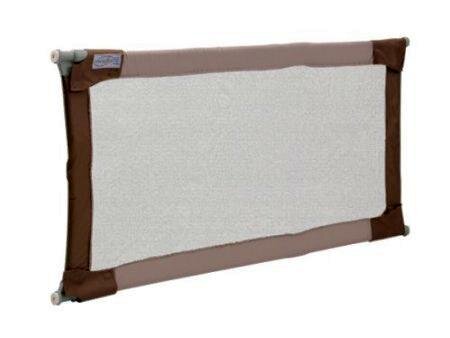 Large Span Baby Gate
Are you wearing yourself out chasing your tiny tot around your beach house rental? Let us help you coral your ambitious explorer by delivering one of our Baby Gates designed for larger openings that fit uneven-extra wide openings and baseboards. This is the perfect portable travel gate with its quick folding collapsible sides that make set-up, re-location, removal and storage easy.
This pressure mounted baby gate stands 27 inches tall and expands from 38 to 60 inches wide. It is the perfect solution to keep your little ones in a safe and monitored location while you prepare meals or get things ready for a day of sand, fun and sun at one of the beautiful beaches on Topsail Island.
Please note, the soft nature of this gate is perfect for children, but not intended for pets that may claw at the gate. Pets can and will damage the fabric. If you are looking for a gate to help keep your dog contained, please visit our Pet Items sections and select Dog Gate.
Specifications:
Pressure mounted, retractable gate that fits openings from 38 to 60 inches
27 inches tall
Quick folding collapsible sides make set-up, relocation, removal and storage easy
Comes with a convenient carry bag
Manufacturers Suggested Age: Children ages 6 months to 24 months
Manufacturers Website/Instructions: http://www.evenflo.com/Products/Evenflo/Baby_Gates/Soft___Wide/
Instrucational Video: https://www.youtube.com/watch?v=qyc1y-8CEmo
Maximum Weight Capacity: N/A
Item Weight: Approximately 10 pounds
Care and Cleaning: Blot with mild soap, damp cloth and cold water. NOT to be used with pets due to the fabric material and clawing.