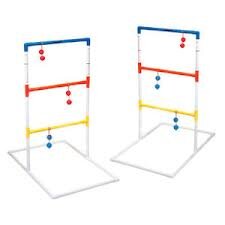 Ladder Ball Game
Enjoy hours of fun with your family and friends playing Ladder Ball (also called Ladder Golf) on Topsail Island. This foldable game set has two PVC ladders with color-coated horizontal bars. The set includes six team-colored weighted bolas. A set of detailed instructions is also included to help beginners of all ages learn the rules and enjoy hours of fun. You can take this ladder ball set from your rental property's backyard to the beach with the included carry/storage bag.
Please note, children playing ladder ball should be supervised by an adult to ensure their safety.
Specifications:
Two foldable PVC ladders with color-coated horizontal bars
Six team colored weighted bolas
Set of detailed instructions
Comes with its own carry/storage bag
Dimensions: 39" x 22" with 33" bases
Manufacturers Suggested Age: Children to Adults
Manufacturers Instructions: Included with the Ladder Ball set, but you can also visit the following link for complete instructions. http://laddergolf.com/pages/official-rules
Item Weight: 6.8 pounds
Care and Cleaning: Please use fresh water to wash down the ladder ball game after each use/trip to the beach.