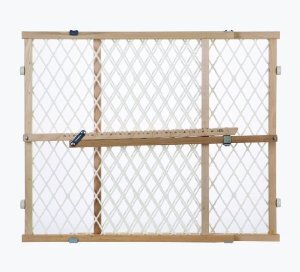 Dog Gate
Is your four-legged friend always on the go? Do you need to prepare the kids for a day at the beach without Fido's help? Let Sweet Dreams Linen help you out with one of our durable, expandable dog gates delivered to your rental property. Perfect for entryways and hallways, they will allow you to get your chores done and then play with the whole family!
The durable bamboo framed gate is durable and made with 100% recycled plastic panels. The gate is 24" tall and extends from 28" to 42" wide. The gate is pressure mounted which allows for quick and hassle free set up and can be easily moved to different locations, depending on our needs.
Specifications:
Durable, bamboo frame
Made with 100% recycled plastic panels
24" Tall
Extends from 28" to 42" wide
Pressure mounted gate for quick and easy set up
Manufacturers Suggested Age: Puppy to Adult dog
Easy to Follow How to Video: https://www.youtube.com/watch?v=ujsKJL1Gekw
Item Weight: 3 pounds
Care and Cleaning: To clean the dog gate, wipe with a damp cloth as needed.