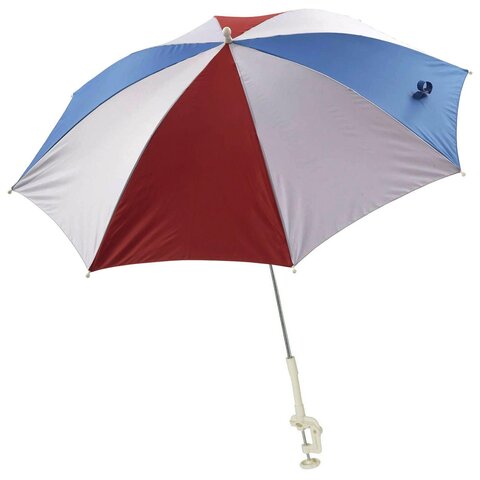 Clamp-on Umbrella for Beach Chair
Can't wait to put your toes in the sand and enjoy watching the waves gently crash upon the shore? Keep the UV rays at bay with this portable Clamp-On Umbrella. It easily clamps-on to standard beach and folding chairs for instant shade. It quickly clamps on to the back frame or arm of a beach chair.
Specifications:
ONE Clamp-on Umbrella
Beach Chair Rented Separately
Clamps onto a horizontal or vertical surface
Approximately 38" in Diameter
Easy to set up and take down
Portable
Manufacturers Suggested Age: Adults should set up and take down the chair umbrella.
Item Weight: 2 pounds
Care and Cleaning: To clean, rinse with fresh water after each use/trip to the beach. A mild soap may be used, as needed. Please do NOT use harsh soaps or bleach to clean the umbrella.
NOTE: Beach umbrellas should not be used during periods of strong or gusty winds exceeding 15 mph. Please, take down and properly store umbrellas during these conditions.