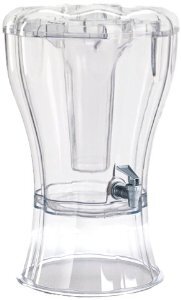 Beverage Dispenser
Planning a large get together for your family, friends or place of business? Need to keep your homemade Sweet Tea or Lemonade cold for a long time? The beverage dispenser is best for helping you accomplish such a task.
The 3-gallon capacity dispenser has a center ice core that keeps your beverages colder longer. One hand release allows you to fill your drink quickly and easily. With the base on the dispenser the height is 19 inches.
Specifications:
BPA Beverage Dispenser
Ice core keeps beverages cold
19 inches tall with base
3 gallon capacity
Manufacturers Suggested Age: Children to Adult
Maximum Weight Capacity: 3 gallons
Item Weight: 3 pounds
Care and Cleaning: Clean all parts of the beverage dispenser using mild dish soap and hot water.