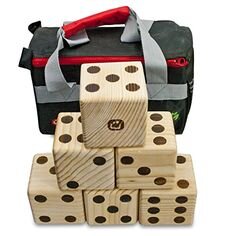 Beach Dice Game
The Beach Dice Game is the perfect game to provide hours of fun with your family on the beaches at beautiful Topsail Island.
The set comes with 6 Solid Wood Dice. The dice set can be used to play a variety of games, on the beach or in the yard, that are great for kids of all ages. The set comes with a sturdy nylon bag so you can easily take it from your backyard to the beach with no hassle.
Specifications:
6 Solid Wood Dice that are heat branded to ensure the numbers do not fade
Carry case for easy transport
Manufacturers Suggested Age: Children to Adults
Manufacturers Instructions: For game options and more information, please visit the company website at http://www.ubergames.co.uk/
Item Weight: 3 pounds (total set weight)
Care and Cleaning: Please wipe dice with a damp cloth after each use/trip to the beach.