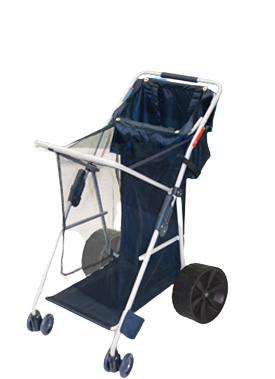 Beach Cart
Is it time to go to the beach for the day. Do you have your… Cooler full of drinks and snacks? Check! Beach and sand toys for the kids? Check! Beach Umbrella? Check! Beach chairs? Check! Enough arms to carry all of this and keep a watchful eye on the kids while walking to the beach? Nope! Let us bring you a beach cart to simplify your days at the beach and get everything from your rental home to your favorite spot on Topsail Beach in one trip.
These beach carts are easy to open and when not in use fold to compact size for easy storage. They are large enough to carry your beach chairs, coolers, towels, toys and any other necessary items for your fun filled, stress free day at the beach. These beach carts are durable, long lasting and will not let you down!
Specifications:
Can carry up to 4 beach chairs
Large center storage unit for transporting your beach towels, toys and beach bag
Can hold a 48 quart cooler
Handy storage pockets
Rolls easily on any surface – sand, grass, pavement
Up to 100 pounds of carrying capacity
Manufacturers Suggested Age: Adults should load, unload and transport the beach cart. Older children should be supervised when loading, unloading and transporting the beach cart.
Maximum Weight Capacity: 75 pounds
Item Weight: 10 pounds
Care and Cleaning: Please rinse the beach cart with fresh water after each use/trip to the beach. Please do NOT use harsh soap or bleach to clean the beach cart.