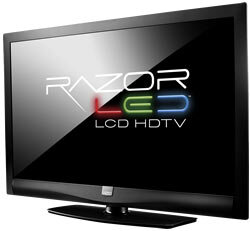 32" Television
Do you need an extra TV at your Topsail Island rental property? The TV's are an ideal solution for hooking up the kid's video games, movie time, placing in a bedroom that doesn't have one or to keep the kid's entertained during a rainy day at the beach? Sweet Dreams Linen will happily deliver a 32" Flat Screen TV to your rental home to help ensure that everyone is cheerful and amused.
Our TV's are slim and lightweight for easy transporting and set up in any room you choose. All of our rental TV's are High Definition either LED or LCD. The TV will come with a HDMI cable, coaxial cable, and RCA cable for hook-up.
Specifications:
32" Flat Screen HDTV
Lightweight
All TV's are either LED or LCD
Come with all the cables you need for hook-up – HDMI, Coaxial, and RCA
Manufacturers Suggested Age: Adults should transport and hook-up TV's for safety.
Item Weight: 9 pounds
Care and Cleaning: To clean TV's, wipe with a soft cloth.